Smart People. Brilliant Finishes. Expertise is the key ingredient in all we do at M.L. Campbell. Not only in formulating our products, but also in providing invaluable technical answers. Our expert distributors are the best in the business. And they're at your disposal with unmatched product knowledge and training programs. Along with our easy-to-apply products, their support gives you the wood finishing results you demand.
Remarkable Support
Training Programs
At our NEW state-of-the-art training facility, M.L. Campbell offers a rigorous training program that prepares distributor lacquer specialists to analyze and recommend the right system for your shop needs. M.L. Campbell also offers comprehensive hands-on training seminars and technical support at distributor locations – ask your M.L. Campbell distributor for further details.
Shop Consultations
Through the help of our trained professionals, we work in-house with shops to help you achieve your specific finishing needs. Our well-trained distributor lacquer specialists will come to your shop to personally demonstrate and spray M.L. Campbell wood finishes. The demonstration will include recommendations on proper wood finishing systems, spray equipment and any other finishing supplies that you may need.
Color Matching
Custom color stain and pigmented finishes are available from our Color Studio™ with quick match turnaround time. Utilizing M.L. Campbell's unique color tint system, extensively trained distributor color match specialist, and color match computers allows for precise color matching that can be easily duplicated with accuracy.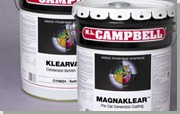 Quick Delivery
Our distributors stock an extensive product assortment and carry enough inventory to service large shops. You can count on M.L. Campbell products to be delivered quickly from distributor locations near you.
Sales Tools
Not only do our Distributors make it easy for shops to get your hands on the best quality products, they make it just as easy for you to sell those products to your customers. We provide shops with a wide range of marketing tools that include, but are not limited to the following. Contact your local M.L. Campbell Distributor for various merchandising items.
WoodSong II Stain Color Card
The WoodSong II Stain System was designed to give you complete flexibility of color, workability and application by offering you the right products for a specific job or shop environment. Our WoodSong II Color Cards feature packaged color stains, WoodSong II stains tinted to Minwax colors and dyes. Custom colors are also available from our Distributors' Color Studio with quick match turnaround time.
Style Gallery
When it comes to cabinet finishes, we realize the choices can seem endless – M.L. Campbell's FINISH IN STYLE® color forecast brochure is here to help. Taking leading influences on color and design, we examine the five major categories of kitchen styles in our world today and determine the cabinet finishes that best complement each style. Using our high performance finishes, we have applied our high-end multi-step wood finishing system to each of the five styles. Learn more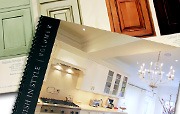 FINISH IN STYLE®
Created by our designers, this full color finish forecast brochure takes the leading influences on color and design and focuses on five major categories of kitchen styles in our world today. Our FINISH IN STYLE® guide coordinates M.L. Campbell's high performance stains, glazes and pigmented finish colors into step-by-step finishing instructions, creating looks that will be relevant far into the future.
Color Fan Deck and Designer Library
Pigmented coatings in the professional wood finishing industry continue to trend positive with a significant increase in demand for primers and pigmented colors. Our Never Compromise Colors Fan Deck offers the most comprehensive color system available today – featuring 1,000+ colors. The Never Compromise Colors Designer Library offers larger 8″ x 5″ color samples.
Glaze Overlay Color Selector
M.L. Campbell glazes are designed to imitate aging and create a beautiful three-dimensional look that provides color depth and rich color to interior wood surfaces. The Glaze Overlay Color Selector uses large glaze color transparencies and is designed to help select glaze colors with complementary stains and pigmented coatings underneath. 12 colors included; many custom colors are also available.
Industry Links
M.L. Campbell® has been a member of many leading woodworking institutes and associations for over 25 years. This continued membership allows us to maintain product quality per industry standards as well as build and strengthen relationships with industry partners. View Industry Links
Finisher's Tools
The Finisher's Tool Guide features some of our most valuable tools that we provide for your use. These include our various Campy measuring cups, a Ford #4 Viscosity Cup, our M.L. Campbell stopwatch and a Wet Film Thickness Gauge.
Product Sell Sheets
In addition to our product information (PI) sheets, we also provide sell sheets for our most popular products. These sell sheets include the product's unique advantages and test results on durability and performance.